【Ambient Air Sampler series】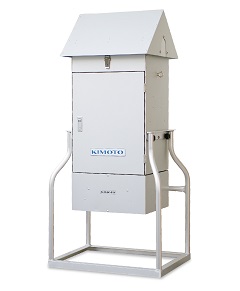 High Volume Air sampler, Model-120SL.
1
Sampling for 24 hours with sampling flow rate of 1.3m
3
/min. is possible.
2
The flow rate is selectable within 600 to 1300L/min.
3
The specifications of this series meets US EPA standard.
4
The sampling flow rate is stable by the flow rate controller.
5
Noise-reduction by a noiseless blower (brushless) and a silencer.
6
The waiting time and the start time can be set by the digital timer.
7
The timer and the integrated flow rate can be compensated by the memory against the power outage.